Case Studies ‣‣ Australia ‣‣ Corporate
Cashless, ticketless, zero contact and fast.
These are not normally words that would spring to mind when you're thinking about a car park but now, thanks to an innovative new system by PARKIQ, the car parking experience really is as simple as that. Rhodes Central is located in the heart of Rhodes in Sydney's Inner West, directly opposite Rhodes Station on Walker Street.

Rhodes Central is home to the area's only Woolworths supermarket, Bamboo Lane casual dining, international restaurants, health and wellness services, plus over 55 convenient stores.

PARKIQ's technology was chosen specifically to offer tenants and patrons a safe and user-friendly parking service. On a build that has brought high-quality amenities and state-of-the-art architectural features to the area, the car park system had to follow suit. The Watermelon terminals are sleek, simple and accurate, with a 10-inch touch screen and black powder coat finish.
New contactless features include license plate recognition, QR codes and digital receipts together with the MYSPOT booking system provides a 100% digital parking service. By eliminating cash, tickets and paper receipts, operational and maintenance costs are less than half that of the traditional car parking systems and the user-friendly platform includes the latest features and functionality enabling centre management to have the ability to operate the car park themselves like seasoned professionals.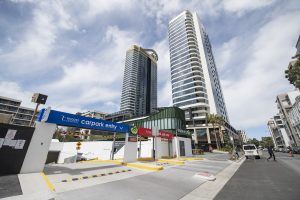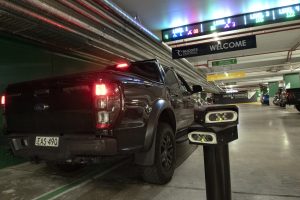 To put it simply, the Watermelon system has been designed to ensure maximum convenience for patrons as well as building owners and operators.
So, it's a win-win all around!